Pier 55 Red Wing Area Seniors
240 Harrison St, Ste 2 | Red Wing, MN 55066 | 651.327.2255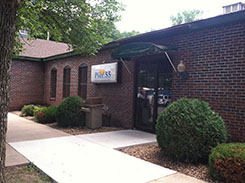 ---
About Us
---
Pier 55 is open to all, and you do not need to be a member to participate. The Center is handicapped accessible and no one shall be refused access to programs because of race, religion, sex, color, economic status, or disability. Our mission as Red Wing Area Seniors, Inc. is to enhance, stimulate, accommodate and support ever-changing and active lives.
---
OUTSMART THE SCAMMERS
Thursday, Jan. 19, 10 - 11 a.m.
No Cost
---
Bring your friends. Membership not required.
Incidents of fraud are on the rise and scammers' tactics are becoming more complex. Join us for a presentation that will help you outsmart the scammers. Our speaker, Connor Smith from Ed-ward Jones, will explain:
• how to identify red flags that may indicate a fraudulent encounter;
• resources to turn to when you or a loved one is targeted; and
• steps you can take NOW to help protect yourself and loved ones.
Bring your questions!
This is presented by Red Wing Area Seniors and Red Wing Community Recreation.
---
February Friendship Tea
---
Monday, Feb. 6 • 2 p.m.
$5 members and $8 non-members, Limit of 20
Pat Rapp and Phyllis Jackson will hostess our February Friendship Tea. To register, call the front desk. You're invited to dress for the occasion.
---
Care Call In
---
If you have concerns about living alone. You may want to be part of our "Care Call In" program. Each day we are open you call to let us know you are "OK." If we don't hear from you by 9 a.m. we call your emergency contact. Stop in or call to sign up.
---
Contact Us
---
Phone: 651.327.2255
Hours: Monday-Friday 9:00am to 4:00pm
Program Coordinator: rwasprogram@gmail.com
Executive Director: rwasdirector@gmail.com
Stop in or visit us on Facebook.
---
Our Staff
---
Officers:
Tom Walsh
President
Ralph Ryan
Vice-president
Jan Wall
Secretary
Gary Johnson
Treasurer
Marcy Underwood
Past President
Directors:
Douglass Blakesley
Sandy Giles
Ben Stephani
Dan Mjolsness
Marlene Nihart
Jessica Wheeler
Staff:
Kim Wojcik
Executive Director
Shirley Perkins
Administrative Assistant
Stef Braun
Program Coordinator
Sheryle Boldt
Annadee's Manager
John Simanski
Annadee's Janitor