Pier 55 Red Wing Area Seniors
240 Harrison St, Ste 2 | Red Wing, MN 55066 | 651.327.2255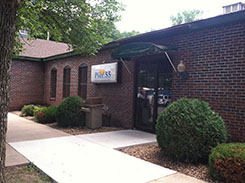 ---
About Us
---
Pier 55 is open to all, and you do not need to be a member to participate. The Center is handicapped accessible and no one shall be refused access to programs because of race, religion, sex, color, economic status, or disability. Our mission as Red Wing Area Seniors, Inc. is to enhance, stimulate, accommodate and support ever-changing and active lives.
---
Pier 55 closed Sept. 5th for Labor Day
---
---
Senior Dance is baaaack!
---
Next dance Sunday, September 11,
4-7pm Pier 55 Atrium
This event will feature recorded music of all types. Your choice! Bring your favorite CDs. Come for your listening/dancing pleasure! BYOB and a snack to share. No charge!
---
Healthy Living Kitchen: Completed!
---
Thanks to a generous grant from the Mardag Foundation, the break room has been transformed into a fully functioning kitchen. The kitchen is available to store food for groups using our facility (classes, games, rentals) and for healthy living classes focusing on nutritious and tasty snacks and meals.
---
Building Relationships In Our Community
---
Creating and nurturing strong communities takes thoughtful relationship building and ongoing communication. That's what has been happening behind the scenes here at Pier 55. Beginning this month, and throughout the fall, the fruits of those efforts will begin to be harvested.
Two of the amazing community organizations working cooperatively with us are the Sheldon Theatre and the Anderson Center. We are excited about what is coming, and you will be, too!
On Wednesday, Sept. 21, Chris Burawa, executive director of the Anderson Center, has arranged for a special musical performance by Michael Tsalka and Angelica Minero-Escobar.
Look for RWAS/Pier 55 member specials with both the Anderson Center and the Sheldon Theatre coming soon!
---
Care Call In
---
If you have concerns about living alone. You may want to be part of our "Care Call In" program. Each day we are open you call to let us know you are "OK." If we don't hear from you by 9 a.m. we call your emergency contact. Stop in or call to sign up.
---
Contact Us
---
Phone: 651.327.2255
Hours: Monday-Friday 9:00am to 4:00pm
Program Coordinator: rwasprogram@gmail.com
Executive Director: rwasdirector@gmail.com
Stop in or visit us on Facebook.
---
Our Staff
---
Officers:
Tom Walsh
President
Ralph Ryan
Vice-president
Jan Wall
Secretary
Gary Johnson
Treasurer
Marcy Underwood
Past President
Directors:
Douglass Blakesley
Sandy Giles
Ben Stephani
Dan Mjolsness
Marlene Nihart
Jessica Wheeler
Staff:
Kim Wojcik
Executive Director
Shirley Perkins
Administrative Assistant
Stef Braun
Program Coordinator
Sheryle Boldt
Annadee's Manager
John Simanski
Annadee's Janitor