Pier 55 Red Wing Area Seniors
240 Harrison St, Ste 2 | Red Wing, MN 55066 | 651.327.2255
---
Fitness and Fun
---
March 2018 Fitness Schedule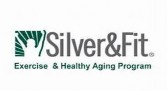 You can use your Silver & Fit health insurance benefit for most of our fitness classes. You can use them an unlimited number of times each month. Look for the S&F by classes that are covered.
Hula Hoop Class
Wednesday, March 7th 11:00 to 11:45am at Pier 55
Register by Monday, March 5th
Instructor: Liz Burhans
No cost (donations welcomed), no membership required, all ability levels are encouraged to attend. Register at Pier 55
Rock Steady Boxing
Rock Steady Boxing is an exercise program designed to improve the mobility, balance and strength of people fighting Parkinson's.
Location: Underground Boxing and Fitness Club
415 Main Street Lower Level, Red Wing
651-327-2660
Monday and Friday 10:45am to Noon
Pier 55 CO-ED SENIOR SOFTBALL TEAM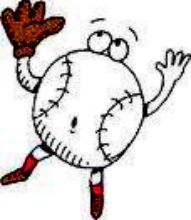 *NEW* Starting spring 2018
(we will have a meeting in April)
Must by 55 and over to play. Games will be against other senior centers on Tuesday mornings. Call or stop in to sign up. We also need a team manager. Watch for an informational meeting this winter.
FREE CONSULTATION- If you want more information about our fitness classes or would like a consultation about which class would be the best place for you to start: call or email Kim Wojcik 651-327-2255 rwasdirector@ gmail.com. If you want to learn more information about the Silver and Fit S&F
Parkinson Wellness Recovery (PWR)

Instructor: Patty Svien, Physical Therapist
Cost: $35, limited to 8 participants
PWR is an evidence-based exercise program designed to assist people with mild to moderate Parkinson's disease to improve their posture, mobility, ability, endurance, strength and function. Participants must be able to get up and down from the floor independently and should bring a Yoga mat to class. To register, call Patty at 651-380-8752.
Active Older Adults Fitness
S&F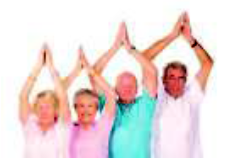 Mondays, Wednesdays and Fridays at 9 am.
Cost: $25/10 classes
Instructor: Jessie Grider
Enjoy a complete workout with cardio-respiratory, strengthening, balance and stretching components, mixed with variety and fun!
"Body Bar" Classes
S&F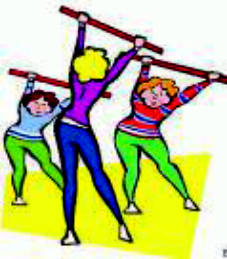 Tuesdays • 12:15p.m.
Cost: $2 members
Instructor: Kim Wojcik
These new classes are only 15 minutes long, using weighted bars. You can use Silver & Fit insurance or purchase a 10 class punch card.
Try Tai Chi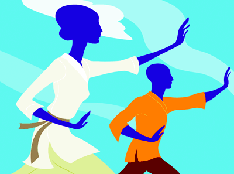 Instructor: Patty Svien, registered physical therapist
Call Patti for class dates and to register 651-380-8752
Yoga Expert's Instruction Benefits Many Seniors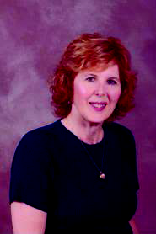 Michele Hoffman has been teaching therapeutic yoga to seniors for 20 years. An R-RYT, a certified yoga therapist, she is experienced in using the tools of yoga to help reduce or eliminate pain, prepare or recuperate from joint replacement surgery and improve quality of life for those living. Six sessions are $45 for a 6-class punch card to be used within 3 months. Yoga poses will be done standing, in a chair or on the floor. Mats and blankets will be provided.
Yoga for Healing: Tuesdays • 9:30 – 10:45 a.m.
Therapeutic Chair Yoga: Wednesdays • 2 – 3 p.m.
Yoga poses will be done standing or in a chair.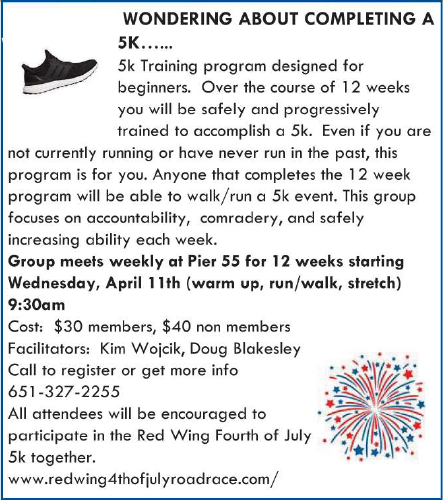 Stretching for Range of Motion
S&F
Thursdays at 8:30 - 9:10 a.m.
Instructor: Kim Wojcik
Range of motion determines many of the activities of daily living we are able to do. We begin with walking and other movements to warm the body, then we move into flowing movements and follow with some balance and held stretches. Feel good all over! This class is $5 for drop-in's or a 10-class punch card is available for $20. AOA punch card and Silver&Fit can be used for this class.
Strength Training
S&F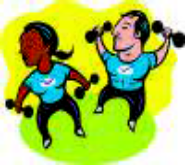 Instructor: Kim Wojcik
Fridays -- 11-11:40 a.m.
This class is $5 for drop-in's or a 10-class punch card is available for $20.
Yoga with Jessica
S&F
Wednesdays 3:30 - 4:30 p.m.
Fridays 11:45 to 12:45
Tuesday 12:15 strength
Cost: $4 per class members, $6 non-members, 10-class punch cards are available
Classes will be at Bay Point Park when weather eventually warms up.
Instructor: Jessica Richmond
This class is for any "body." Jessica has modifications for postures so come try it and enjoy. Try your first class for free to see if this gentle exercise is something for you!
During summer months: Jessica Richmond will guide students through yoga poses at Levee Park, across the train tracks from Train Depot (weather permitting). Call Pier 55 if the weather is questionable or with questions on where to meet.
Let's Go for a Walk Inside!:
Start walking inside at Pier 55. If you walk from end to end of our hallway (Rancho Loco to Pottery Museum) going one way, it is 89 steps for men and 101 steps for women. Make 8-10 trips back and forth is approximately 1,000 steps in your day.No sign up, fee or membership. Just your walking shoes.
Unless otherwise specified:
All classes, activities and events are held at Pier 55.
Registration is always at the Pier 55 front desk, in person or by phone:
240 Harrison St., Red Wing, MN, 651-327-2255.
Contact the front desk for additional information — reception.pier55@gmail.com