---
Pier 55 Gift Shop
---
Shop at Pier 55 Gift Shop
For Mother's Day, Sunday, May 14
Mother's Day honors all women because they nurture others. What can you give that special woman? The best would be a hand-written note saying why she is special. Perhaps the next best is something from Pier 55's Gift Shop!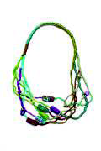 Hand-crafted lap throws, jewelry, scarves, wood carvings, kitchen towels, beauty products and soaps are among the many "finds". There are also the special memory stuffed bears and pillows made from treasured fabrics of clothing worn by Mom's late spouse or relatives.
Mother's Day was first celebrated in 1908 when Anna Jarvis held a memorial for her mother, Ann Reeves Jarvis, at St Andrew's Methodist Church in Grafton, W.V. Ann Jarvis was a peace activist who cared for both Union and Southern wounded soldiers. She created Mother's Day Work Clubs to address public health issues. In 1914, President Woodrow Wilson proclaimed Mother's Day to be the second Sunday in May.
All items are made by local people; a portion of the proceeds benefits our mission to provide life-long learning for seniors in Red Wing and surrounding communities.
Hours: M-F, 9 a.m. to 4 p.m.
The Public Is Invited to the Pier 55 Gift Shop