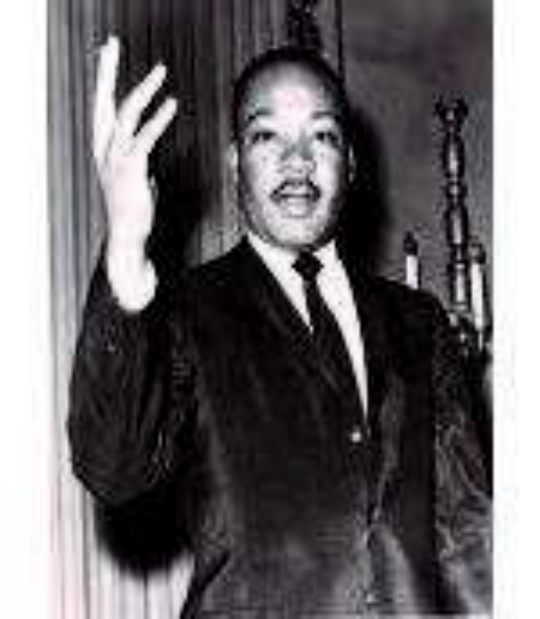 Building Bridges for a Bold Dream
Community Breakfast
Monday, January 15, 2018, 7-9:30am
A community program and breakfast to honor the life of Martin Luther King, Jr.
There is no cost for this celebration, but registration is requested to accommodate seating. Register through Red Wing Community Education (651.385.4565) by January 10.
The MLK Breakfast recognizes the significant role the faith community played in Martin Luther King Jr.'s life and in the Civil Rights Movement. This breakfast is an opportunity to celebrate Dr. King's legacy of service and become inspired to carry out his bold dream today in Red Wing. MN. The celebration will include a breakfast, local speaker, performances by local choirs, along with the live stream of the General Mills Foundation Event broadcasted from Minneapolis that features David Oyelowo, lead actor in Selma (2014), an Oscar-nominated film that tells the story of Dr. King's role in the civil rights marches in Selma, Alabama in 1965.

Please join us for this program and complimentary breakfast.
Brought to you by:
Goodhue County Historical Society, Goodhue County Human Rights Commission, Red Wing Area Seniors.
Monthly Senior Forum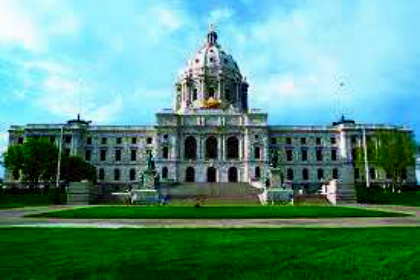 Minnesota State Capital Renovations Presentation
Denis Gardner
Thursday, January 18th at 10 am
Denis Gardner, who has documented properties for the National Register of Historic Places and the Historic American Engineering Record, is the author of Minnesota Treasures: Stories Behind the State's Historic Places. This presentation is open to all! No cost, stop by or call to register by January 15th. Treats and coffee will be provided. Space may be limited.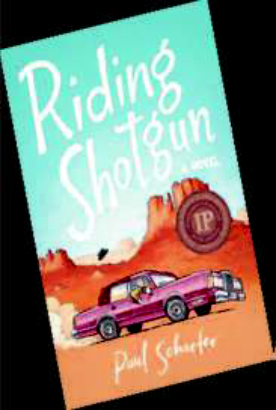 Riding Shot Gun
Award Winning Novel by Paul Schaefer
January 16th, 10am

No cost, no registration, all are welcome!
Treats will be provided.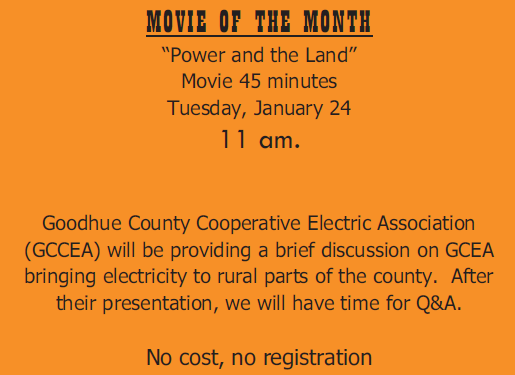 "Food With Friends"
Thursday, January 25 12:15 - 1:30 p.m.
Cost: $7.25 • RSVP by Thursday, January 18
Members only luncheon catered by Meatheads.
FASHION SHOW
Models needed! 5-7 models needed 10% discount
Wednesday, February 21st from 10:30 to 1 pm
Imagine a day at a boutique...right in Pier55! The fashion show runs from 10:30 to 11:30am, 11:30am to 1:00pm will be time for appetizers, visiting, and shopping! TaylorMarie's a mobile retail clothing store that provides fashionable women's clothing and accessories from respected, high quality brands! Our goal is to recreate the total shopping experience of a department store without the hassle of ever leaving your facility. A visit from TaylorMarie's creates an experience that goes beyond the clothing - it's a fun, festive event that everyone looks forward to!
Any age, any size, any shape is the perfect model. Models receive a 10% discount on purchases. Contact Stef Braun if you are interested in being a model or would like more information. 651-327-2255 rwasprogram@gami.com