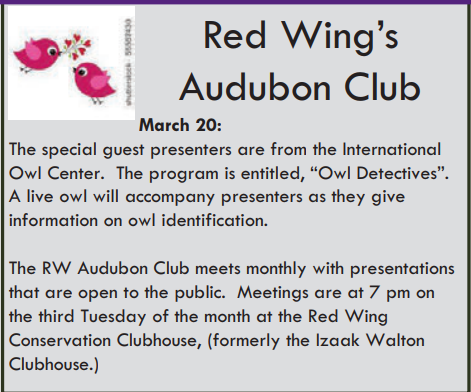 "Food With Friends"
Thursday, March 22 - 12:15pm to 1:30
Cost: $7.25 • RSVP by Thursday, March 15
Food With Friends is our monthly members only luncheon. We started this fun monthly event 12 months ago and since that time over 100 different members have attended.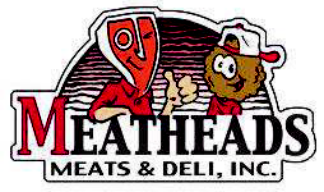 Each month is a different meal catered by Meatheads Meat and Deli. In addition to the delicious meal we always have homemade dessert provided by our fantastic volunteer Linda C. Along with coffee and water. In addition, we share the first view of the newsletter and other relevant information to our members about current events, as well as, a monthly prize drawings.
Unless specified below it is the regular Food with Friends agenda:
February is bring a non member guest at no charge to them
July is Grill Out
June No Food W Friends
Nov No Food W Friends
December White elephant gift exchange
Greetings from the
Red Wing Public Library!

As the saying goes, we're saving the best for last! As the final visit for our "Hot Reads for Cold Nights" program, we are proud to sponsor Kao Kalia Yang, author of The Late Homecomer: A Hmong Family Memoir and The Song Poet. The Late Homecomer won the 2009 MN Book Awards in Creative Nonfiction/Memoir and Reader's Choice. It was a finalist for a PEN USA Literary Award and the Asian American Literary Award. The book is a National Endowment for the Arts Big Read selection. The Song Poet is the 2017 winner of a MN Book Award in Creative Nonfiction/Memoir. It was a finalist for the National Book Critics Circle Award, the Chautauqua Prize, a PEN USA Literary Award, and the Dayton Literary Peace Prize. Yang is currently working on her fictional debut, Descendants of Bad Luck Women, and books for children. This project is made possible with money from Minnesota's Arts and Cultural Heritage Fund and the people of Minnesota for Library Legacy activities.
The Friends of the Library Book Club will be meeting to discuss Yang's book, The Late Homecomer on Tuesday, March 13th, in anticipation of her visit on Saturday, March 24th at 10:00. All are welcome! For more information, please call 385-3673.
Movie of the Month:
Going in Style
Tuesday, March 28 • 11 a.m. (128 min)
Buttered popcorn provided
No cost, no registration
2017 American heist comedy film directed by Zach Braff and written by Theodore Melfi. A remake of the 1979 film Going in Style, it stars Morgan Freeman, Michael Caine, Alan Arkin, Joey King, Matt Dillon, Christopher Lloyd, Ann-Margret and John Ortiz, and follows a trio of retirees who plan to rob a bank after their pensions are cancelled. SUPER FUNNY MOVIE!
Let's Go for an Nice, Easy Hike!
Carly State Park in Plainview, Minnesota
Thursday, May 3-
Cost: $4 members; $6/non-members
Register by April 30th • Limit - 20
Leave Pier 55 in car pools at 8 a.m. Drivers need a park pass. The guided hike is from 9:30- 10:30 to look at lovely blue bells, followed by a picnic. Nice level trails run along a creek.
Birding Hike at Frontenac State Park
Thursday, May 10th, Cost: $4 members; $6/non-members
Register by May 7. Limit - 15
Meet at rest stop at 9 a.m. Come by yourself, bring a friend or carpool, park at the wayside rest stop at the junction of County Road 2 and Highway 61. This trip filled up fast last year. We are fortunate to have the services of Bruce Ause, former director of Red Wing Environmental Learning Center, to lead Master Naturalist Programs, including the Birding Hike and at Carly State Park.
Denis P. Garner
Thursday, May 16th, 10am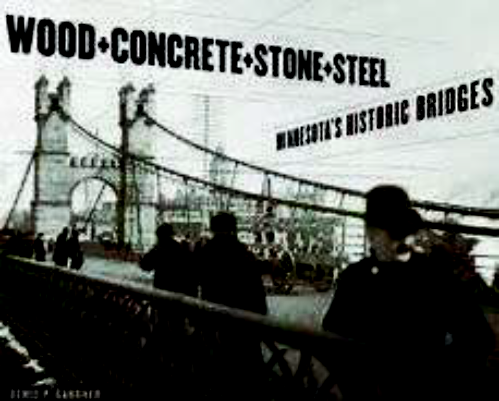 From timber bridges to crossings of steel, Minnesota has lost many of its historic bridges. Thankfully, however, the state continues to host a number of historic crossings. Indeed, some of these bridges, such as the Aerial lift Bridge in Duluth and the vertical lift bridge in Stillwater, are defining symbols of their communities. Learn about the iconic and widely diverse bridges that have decorated the landscape of the North Star State, some sill standing and others long ago removed, from author and historian Denis P. Gardner.
Denis P. Gardner is the National Register Historian at the Minnesota State Historic Preservation Office St. Paul, where he reviews the eligibility of properties for the National Register of Historic Places. He is the author of Minnesota Treasurers: Stories Behind the State's Historic Places and Wood, Concrete, Stone and Steel: Minnesota's Historic Bridges (University Of Minnesota Press). His latest book is Our Minnesota State Capitol: From Groundbreaking Through Restoration (Minnesota Historical Society Press). Denis was here last month talking about the capitol restoration and we had numerous requests for him to return! HE IS COMING BACK!