---
Games
---
Attention Chess Players *NEW*
The Chess Club is coming back and we are looking for a few more players. The club meets every Wednesday from 12:30 p.m. at CARIBOU. Call Stef at RWAS for more information.
Scrabble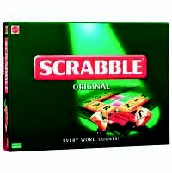 Bingo! Anarchy! Collaboration! Laughter! Not words you normally think of when someone mentions Scrabble? Then you need to experience the fun and wonder of playing with us at Pier 55 on Wednesdays at 11 a.m. While we all strive to make the best words possible and hit as many bonus squares as we can, we play with a spirit of fun rather than competition, and most don't keep score. We have all abilities from tournament-level players to those who are happy to make two-syllable words, and, if necessary, we look up words before we play them. Once in a while we have an anarchy play which suspends a rule or two. We are constantly amazed at the words and ideas we come up with, and would like others to share in the fun. Join us for a relaxing yet invigorating session Wednesdays at 11 a.m. in the Community Room.
Chinese Mahjong
Mondays 1:00 pm
American Mahjong
Tuesdays, 1:00 pm
Euchre
First and Third Mondays at 12:30 pm
500
Second and Fourth Mondays at 12:30 pm
"Wild Woman" Card Game
Thursdays, April 13 & 27 • 9:30 a.m.
and First Friday, April 1 • Noon-2 • Cyber Room
Remember canasta and "Hand and Foot"? Then you can learn this game. Guys are welcome. We've added a third game day: first Friday 12-2 p.m. for March, April and May in the Community Room; then for June-Dec., first Friday at 9:30-11:30 a.m. in the Cyber Center. For information, contact Clare Cox, 763- 420-5333, wildsplash@charter.net.
Duplicate Bridge
First and Third Thursdays • 11:15 a.m.
Looking for something fun and challenging for your mind? Bridge is a great game! For more information call 651.388.9127.
Swiss Teams Bridge
*5th* Thursday of each month For more information, call or stop in.
Interested in Learning to Play Bridge?
Looking for something fun and challenging for your mind? Bridge is a great game! Fred and Jane Baker are happy to give lessons. Call Pier 55 at 327-2255.
Dominoes, Anyone?
Contact Clare Cox, 763- 420-5333