Pier 55 Red Wing Area Seniors
240 Harrison St, Ste 2 | Red Wing, MN 55066 | 651.327.2255
---
Support Groups
---
At this time, all Pier 55/Red Wing Area Senior programming that was scheduled during the month of May 2020 has been cancelled.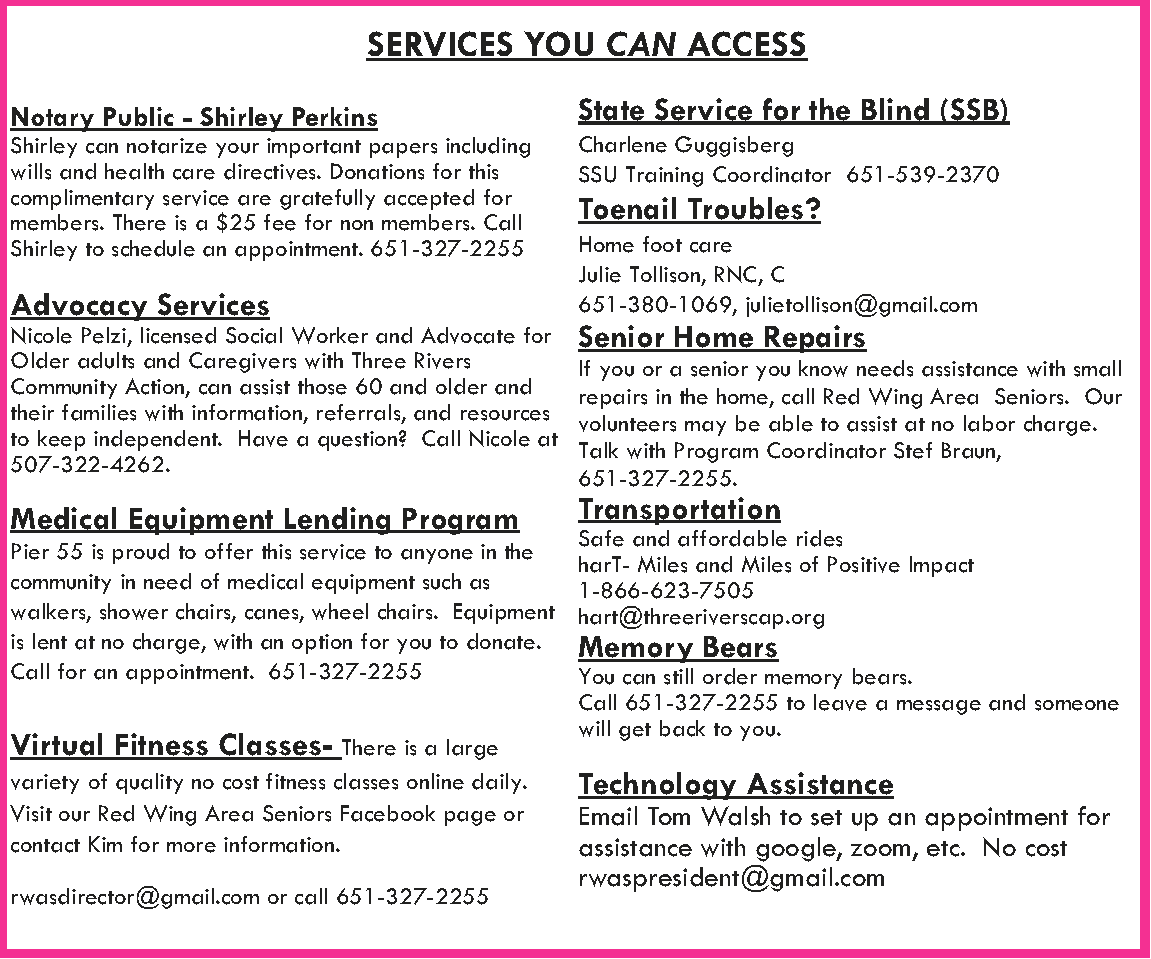 Cancer Support
Mondays 1:00pm at Mandy's Coffee Shop
Alzheimer's and Dementia
Support Group
1st Monday of the month
Presented by: Alzheimer's Association
St. Crispin Living Community– The Villa
Private Dining Room, 2nd Floor 135 Pioneer Rd.
Contact: Sarah Fox, 651-385-5422, alz.org
Alzheimer's and Dementia
Caregiver Support Group
2nd Monday of Every Month, 3:30 to 5:00pm
The Bluffs of Lake City
480 West Grant Street, Lake City
Private Dining Room. Refreshments will be served.

For more info or to RSVP contact group facilitator, Vicky Heitman at 651-448-8333 or vheitman@oxfordmgmt.com
Faith in Action
Caregiver Support group
1st Tuesday of the month from 1:30 to 3:00pm
St. Paul's Lutheran Church
320 West Avenue
Use the lower side door entrance.
Grief Support: Coffee & Good Company
2nd & 4th Tuesday • 10—11:30 a.m.
Casual, drop-in support for those who have lost a loved one. We're meeting at the First Lutheran Church, 615 West 5th Street. For information, call Kathy Bang at 651-385-3412.
Stroke Support Group
2nd Wednesday • 2 - 3:30 p.m.
Facilitated by Deb Howard, Speech Therapist. Stroke survivors and family members receive support and share information on stroke resources, caregiving, treatment advances, strategies and coping skills.
Parkinson's Support Group
Facilitated by Pat Kernan & Patrice O'Reilly, the group welcomes family, caregivers or anyone who has Parkinson's. Join us.
*No December group meeting*
Check the monthly calendar and newsletter for this month's meeting date.
Unless otherwise specified:
All classes, activities and events are held at Pier 55.
Registration is always at the Pier 55 front desk, in person or by phone:
240 Harrison St., Red Wing, MN, 651-327-2255.
Contact the front desk for additional information — reception.pier55@gmail.com