Pier 55 Red Wing Area Seniors
240 Harrison St, Ste 2 | Red Wing, MN 55066 | 651.327.2255
---
Educational
---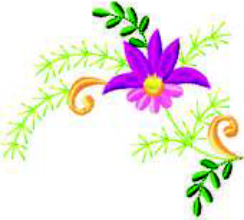 Embroidery Basics
Instructor: Bethany Szymanski
Tuesdays, April 3, 10, & 17
from 10:30am-12pm
Cost: $35, Location: Pier 55

Have you ever wondered how to make a lazy daisy stitch or a French knot? It's all about embroidery in this class where you'll learn the basic embroidery stitches and complete an embroidered tea towel. Bring a few skeins of embroidery floss in colors of your choice and a scissors. All other materials are provided. This class is cosponsored by Red Wing Community Education and Red Wing Area Seniors and is held at Pier 55. Register through Red Wing Community Education at 651-385-4565 or online at www.rwps.org. Here's the link to online registration: https://redwing.cr3.rschooltoday.com/public/ costoption/class_id/4887/public/1/sp/
---
Where Is That Class?
---
Unless otherwise specified all classes, activities and events of Red Wing Area Seniors are held at Pier 55. Registration is always at the Pier 55 front desk, in person or by phone:
240 Harrison St., Red Wing, MN
651-327-2255
Contact the front desk for additional information — reception.pier55@gmail.com
ON-SITE MUSIC LESSONS!
UMC instructors will come to Pier 55 to teach you to play the instrument of your choice in a setting familiar, friendly, comfortable and convenient for you. These 30-minute private lessons will be offered every other week. Talk to Kim or Stef and sign up today. To learn more or schedule a lesson call UMC folks at 651-301-9223.